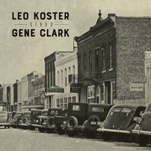 Continental Records will release a new Leo Koster-cd the coming weeks called Leo Koster sings Gene Clark.
It is a mini-album featuring 6 songs by Gene Clark, the legendary singer/songwriter known for his work with The Byrds, Dillard and Clark, Flying Burrito Brothers and his collabaoration with Carla Olson.
All six tracks are not so much covers as well as personal interpretations, showing how great they are when performed not to fit in an album context or time-frame but just as songs. So Echoes is performed with just acoustic guitar, dobro, upright bass and subtle drums, Set you free this time gets a real rock-treatment as does So you say you lost your baby. And Boston, a demo from the very Byrds-demo-set, gets new life as a funrocker. On For a Spanish guitar fiddle-legend Byron Berline plays a very stunning solo-part and Fair and Tender ladies displays the talents of steelguitar-maestro André Sommer.
Leo Koster plays guitars and sings, Bart-Jan Baarmans plays guitars, dobro and mandolin, Kees Maat plays accordion and keyboards and Sjoerd van Bommel plays the drums on this set that was produced by Leo and BJ.
---